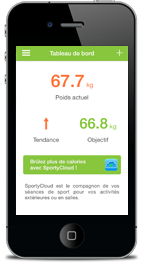 > Description
Follow your weight, reach your goals and coach yourself with FollowWeight, an easy-to-use tool with several functionalities :
Daily save your weight, define goals and coach yourself to reach them more easily !
Calc your personal informations :
- Body mass index
- Body fat mass
- Ideal weight
- Basal metabolism (amount of energy required to maintain vital functions in an organism at complete rest)
- Recommended Daily Calories (Calories needed every day depending activity)
FollowWeight allows creating account to store daily informations and monitoring them with graphics. All family can use it with multi-user functionality.
Data are save online in order to be reachable from all your devices !
FollowWeight is the perfect companion for all people which want monitoring and check their weight !
> What's New in this Version
- Compatibility with iPhone and iPod Touch
- Manage the user ideal weight
- Design improvement
- Indicator of trend weight loss
- Minor bug fixes
> Screenshots