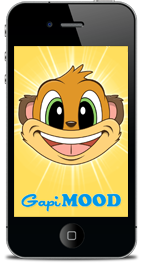 > Description
It is with excitement and joy that we announce the launch of our latest app: GapiMOOD.
Available free for iPhone, GapiMOOD is an application that is intended for all those who want to follow and share their emotions. It is based on seven universal emotions such as joy, surprise, anger, sadness, contempt, fear and disgust.
Designed in collaboration with our expert psychologist, GapiMOOD can monitor, record and share their emotions on a daily basis with simple and fun features :
- Selection of an emotion,
- Linking a comment,
- Assigning a picture,
- Share the emotion via MMS, email, Facebook, Twitter.

GapiMOOD can also view the history of emotions and its statistics with graphics.
> Screenshots